Charity walkers sorry for Ben Nevis bench stunt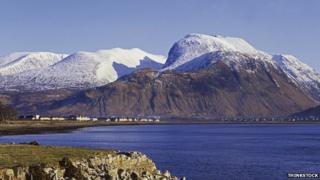 A group of walkers raising money for charity have apologised for leaving a garden bench on the summit of Ben Nevis, the John Muir Trust has said.
The four left the seat so others trekking to the summit of the 4,409ft (1,334m) mountain could rest on it.
It is understood a mountaineer, angered by the group's actions, sawed up the bench and carried the pieces away.
The trust, which looks after Ben Nevis, said the group had not intended to "act maliciously" and had said sorry.
Fran Lockhart, the John Muir Trust's land manager for the Nevis area, said: "As the highest point in the British Isles, Ben Nevis has always been a popular venue for charity fund-raising stunts.
"The group were not acting maliciously. They apologised for their actions and agreed to promptly remove the structure and other materials."
She added: "The message we would want to send everyone climbing the Ben, and any other mountain for that matter, is to leave nothing behind but your footprints."
More than 100,000 climb Ben Nevis every year.
A piano
The Pitlochry-based trust regularly clears away items taken, or left, on to the mountain by walkers.
In 2008, volunteers completed a five-year long project to clear more than 120 cairns from the summit.
The trust said the structures were unsightly, but left about 20 along the main path close to the top.
Remains of a wheelchair and a piano were found during the clean up.
The piano was thought to have been carried up by a gang of Dundee removal men.
A sell-by date on a biscuit wrapper found with the remains matched the period of the Dundonians' charity stunt in 1986.
Former Highland Games athlete Kenny Campbell had thought it was an organ he carried to the peak 15 years earlier.