Scottish Canals launches new phase in houseboats project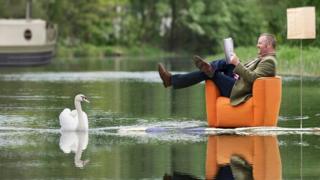 Scottish Canals has launched a second phase of an initiative to encourage more people to live on houseboats.
Four new moorings in Bowling on the Forth and Clyde Canal are the first of more than 70 that will be offered at sites across Scotland.
Living on Water was first introduced at Glasgow's Speirs Wharf, Leamington Wharf in Edinburgh and Muirtown Wharf in Inverness in 2012.
The project was inspired by houseboat communities in England and Holland.
Katie Hughes, director of estates at Scottish Canals, said the scheme offered an alternative to traditional accommodation.
She said: "We want to create houseboat communities around the canal network and encourage more people to live, work and play on and along the waterways."