Cairngorms landowners raise £49m for economy, says study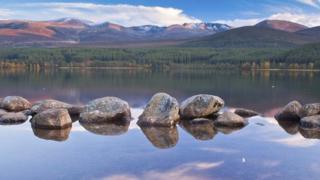 Landowners in the Cairngorms National Park contribute £49m-a-year to the economy, according to a new survey.
The study received responses from the owners of 66% of all the land within the park's boundary.
Most of that area - 82% - was in private ownership and included managed moorland, rough grazing and woodland.
On average landholdings have been in the same ownership for 92 years. Seven areas had been passed down through families for more than 300 years.
The national park is the biggest in Britain, has five of the UK's highest mountains and includes the villages of Aviemore, Braemar and Blair Atholl.
The park covers 1,748 sq miles (4,528 sq km) and is twice the size of the Lake District and Loch Lomond national parks.
Hamish Trench, of the Cairngorms National Park Authority (CNPA), said: "The last survey of landowners in the Cairngorms National Park was carried out by the Cairngorms Partnership in 2002 so we were keen to source up-to-date information to help plan for the future."
David Johnstone, chairman of landowners' organisation Scottish Land and Estates, said the research recognised "the exceptional contribution of landowners to one of Scotland's most celebrated regions".