US firm puts on hold plan for 126-job base in Inverness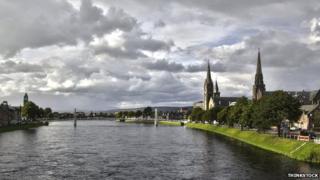 A US-based medical products company has put on hold plans to set up a manufacturing base in Inverness.
Daktari Diagnostics announced in April last year it would produce cartridges for hand-held HIV monitoring devices in the city.
The move was expected to create up to 126 posts and was welcomed at the time by First Minister Alex Salmond.
A public funding package of £2.2m was made available, but no money has been paid out and the offer has expired.
Daktari Diagnostics is based in Cambridge, Massachusetts.
Last year, it said its Scottish venture would involve mass production of blood testing cartridges required for CD4 cell counting, a process used in HIV monitoring. The system has been undergoing clinical trials in Africa.
Work on the Inverness base was expected to start this year.
At the time of the announcement, Mr Salmond met with Daktari Diagnostics' chief executive as part of New York's Scotland Week celebrations.
Highlands and Islands Enterprise (HIE) and Scottish Development International (SDI) offered a £2.2m public sector package for relocation and workforce training.
HIE said both organisations remained in contact with the US company and said it continued to "express interest in pursuing opportunities to establish a presence in the north of Scotland".
A spokesperson for HIE said: "Following the business' announcement last April that it intended to locate manufacturing in the Inverness area, the company began to receive much larger orders than anticipated for its HIV monitoring product.
"As a result, it took a decision to focus on serving this upsurge in demand from its existing production base.
"Daktari has received no public funding to date from HIE or SDI, and the offer of support which was announced last year has now expired."