Rally death daughter calls for FAIs into recent tragedies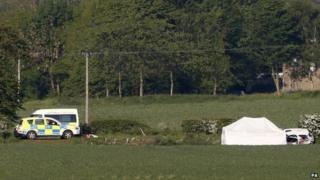 A woman whose mother was killed at a car rally in the Highlands a year ago has called for inquiries into recent rally accidents.
Kerry Johnson's mother Joy Robson was killed at last year's Snowman Rally.
Following last month's crashes at the Jim Clark Rally in the Borders, she has called for fatal accident inquiries (FAIs) into both tragedies.
Three spectators died when they were hit by a car at the event at Little Swinton on 31 May.
In February last year, Mrs Robson, 50, from the Isle of Skye, was watching the first stage of the Highland Car Club Snowman Rally in Glenurquhart Forest, at Balnain, when she was hit by a car taking part .
An eight-year-old boy was also injured but survived.
Justice Secretary Kenny MacAskill has announced a review of motorsports safety in Scotland following the latest accident.
But Kerry Johnson said that was insufficient.
'Open court'
She said: "When I heard the news about what had happened at the Jim Clark Rally I was completely stunned.
"It's just over a year since mum's death and here we are with three more spectators being killed and several more injured. When is this going to stop?
"While I welcome moves by the Scottish government and the police to review safety at these events, it's a fatal accident inquiry held in open court that will get to the bottom of what happened to my mum and these other victims.
"Having a FAI will also give me and my family the right to ask questions which this government review won't.
"My family want to be involved, we want our voice to be heard and we want desperately to make sure nobody else loses their lives at a Scottish rally."
Andrew Henderson, from Thompsons Solicitors who are representing Mrs Robson's family, said the recent accident had upset the relatives.
He said: "In what other sport in Scotland could four spectators be killed within 18 months and nothing be done by the authorities?
"Kerry is right when she says that this has got to stop."
A Crown Office spokesman said: "The Procurator Fiscal has received a report on the death of a 50-year-old woman in Glenurquhart Forest on 16 February 2013.
"The investigation into the death, under the direction of the Scottish Fatalities Investigation Unit, is ongoing and the family are being kept updated in relation to any significant developments."