River Nairn death man named locally as Alexander Fraser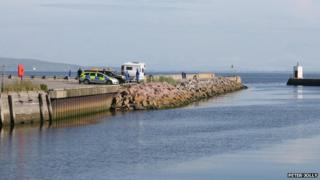 A man who died after he was swept away by the River Nairn has been named locally as 18-year-old Alexander Fraser.
Police responded to a report of a local man entering the water in the harbour area of Nairn at 22:56 on Saturday.
When officers arrived, they found two men in the water with one attempting to help the other.
One man managed to get out but Mr Fraser was lost from sight. Police divers found his body on Sunday.
It was understood that the men had been at unofficial beach party.