Reducing size of SSE's Strathy South wind farm suggested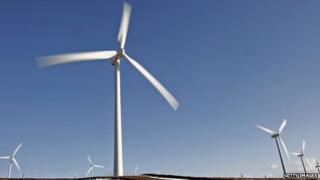 Highland Council planning officials have recommended that councillors raise no objection to a wind farm on condition that it is reduced in size.
Energy giant SSE's planned Strathy South scheme in Sutherland involves 47 turbines.
Scottish Natural Heritage (SNH) and RSPB Scotland have raised concerns about the farm's impact on birds.
Highland planning officials have suggested that eight turbines should be removed from the planning application.
Councillors will consider the proposal and recommendation at Monday's north planning applications committee.
The Scottish government has sought the local authority's views on the project.
In November last year, SNH reaffirmed its objection to the wind farm in the Flow Country - a vast expanse of peatland.
SNH has concerns about its potential impact on hen harriers, waders and divers.
The public body has given advice to the Scottish government on the proposal since 2007.
It has asked for seven turbines to be removed from plan due to what it said were likely impacts on black throated divers and wood sandpipers.
SSE has said it consulted on the scheme with SNH and RSPB Scotland, which called the project "one of the most worrying it has ever seen".
The company said that it recognised the importance of the habitat and that its project would involve restoring degraded peat.
The power company was given consent for 33 turbines at Strathy North in 2011.
It applied to the Scottish government in 2007 for permission for 77 turbines at Strathy South, but has since reduced the size of the scheme.