Scottish island campaign leaders in final talks on more powers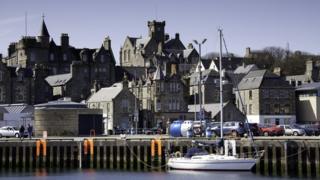 A final round of talks has taken place between three island authorities and the Scottish government about securing more powers for islanders.
The talks form part of Orkney, Shetland and the Western Isles councils' Our Islands - Our Future campaign.
They have sought greater autonomy for the islands whatever the result of the independence referendum.
The government will publish a prospectus on planned new powers this summer.
The leaders of the three councils and Scottish ministers have met on five previous occasions.
Local Government Minister Derek Mackay said: "We are now in a position to finalise our prospectus for the islands imminently which will set out an exciting path for empowering all of Scotland's island communities."
The island authorities have also met with representatives of the UK government.