Play recalls story of Scots runaway Molly Campbell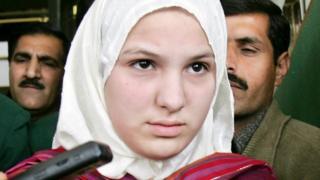 A play recalling the international custody battle for a 12-year-old Scots girl will be given its Scottish premiere in Glasgow later.
My Name is... tells of Molly Campbell, also known as Misbah, who ran away from the Isle of Lewis to be with her father in Lahore in Pakistan in 2006.
The play was written based on interviews with Molly, now 19, and her divorced parents.
Her custody case made international headlines.
The production by London's Tamasha theatre company will be performed at Glasgow's Tron Theatre from Thursday to Saturday.
Tamasha is due to announce dates for a UK tour of the play.
Eight years ago, Ms Campbell left Stornoway where she was living with her mother Louise Campbell to be with her father Sajad Rana in Pakistan.
Her disappearance sparked a police investigation in Scotland.
Ms Campbell's parents eventually reached a settlement in the custody battle.
The 19-year-old has already seen the play with her mother. She said: "It's just amazing seeing the characters. It felt like going back in time."
Sudha Bhuchar wrote the play based on her interviews with the family in 2008. She also drew on a 2006 story in The Guardian that told of how the young woman's parents met in Scotland.
She said: "Louise and Sajad met in the 80s and are sort of a Glasgow love story. They had to cross over boundaries to be together."
Ms Campbell said the play has allowed her to see her parents in a new light.
She said: "I never got to see my mum and dad together. My earliest memory is of when they were divorced.
On seeing her parents portrayed on stage as living together, she added: "It was really emotional, but happy emotional."