Mina, Brookmyre and Neon Waltz at Inverness' goNorth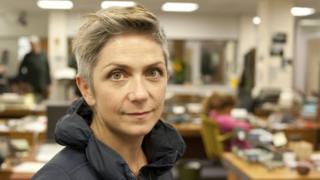 What is described as Scotland's leading creative industries festival will be held next week in Inverness.
Held annually, goNorth brings together people working in broadcasting, gaming, music, fashion, film and publishing.
Speakers during this year's festival from 4 to 5 June include novelists Denise Mina and Christopher Brookmyre.
Neon Waltz, who will be performing at T in the Park, will play a gig and there will be a screening of Bafta-winning short film As He Lay Falling.
More than 100 people who in creative industries will be at this year's goNorth. They will take part in panel discussions, fashion shows and also lead workshops.
The event will feature more than 60 music acts and also screenings of more than 30 films with titles including The Wish, I Heart Chair and Sassie's Gran.
Festival director Amanda Millen said this year's goNorth had attracted a higher than usual number of entries from outside the UK, including continental Europe, Russia, India, America and Ukraine.
She said the quality of storytelling and production values in the films selected were high.
Crime writer Mina's short documentary, Multum in Parvo, will be given its premiere during goNorth.
Shot on an iPhone, the film is about 12 siblings who include the novelist's mother and who grew up in a council house in Glasgow.
Brookmyre will be talking about his novel Bedlam, which is set inside video games.
Gaming is a key feature of the festival and industry organisation, Scottish Games Network, will bring together designers who have worked on Harry Potter games, Medal of Honour and Grand Theft Auto.
As well as Neon Waltz, a band from the Highlands and Islands, there will be performances by Glasgow's Machines in Heaven, Hector Bizerk and singer Siobhan Wilson, Dundee's Model Aeroplanes and Dante from Edinburgh.
There will also be music from bands from France and Germany.
An event called Meet the Creative Nordics will examine television dramas such as The Killing and also literature and textiles that have emerged from Norway, Sweden and Finland.
A fashion show will feature the work of Karen Mabon, a designer from the Black Isle near Inverness whose Scissor and Rose dress has been worn by DJ Fearne Cotton.
Also, Judy R Clark a designer from Fort William who uses Harris Tweed and has been named among singer Emile Sande's favourite designers.
First launched in 2001, goNorth began in Aberdeen before relocating to Dundee and then Inverness.