Army allowed to continue training in Inverness public park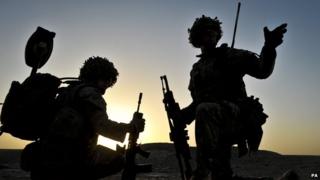 Army reservists will continue training in a city park despite a complaint from a member of the public about soldiers carrying machine guns in the area.
Reservists from C Company 7 Scots have been using Bught Park in Inverness.
Last month's complaint raised concerns about the appropriateness of the park for weapons training.
The Army said it had discussed the matter with Police Scotland and Highland Council and it had been agreed that training could continue.
In a statement, the Army said: "By the end of the meeting, all parties were in agreement that the Army Reserve will be able to train in nominated public areas and additional grounds, as agreed by the council and approved by the police.
"As a follow-up to the meeting, 7 Scots will work closely with Highland Council to establish approved protocols to ensure that all future training is acceptable to all parties concerned and that enhanced public information and reassurance measures are in place."
Bught Park near the River Ness is one of Inverness' largest green spaces.