Inbetweeners TV company quits London for Skye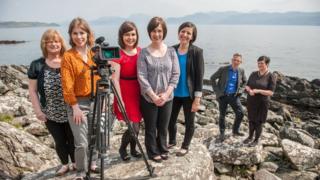 The independent film and TV company behind E4's award-winning comedy The Inbetweeners has moved its operations from London to Skye.
Young Films' owner Chris Young has lived on the island since the 1990s.
The company has set up a new base at Fas, the centre for creative and cultural industries at Gaelic college Sabhal Mor Ostaig in Sleat.
Highlands and Islands Enterprise has provided a £106,000 grant to support five new jobs at the firm.
Edinburgh-born Mr Young, who has recently returned from the Cannes Film Festival, produced The Inbetweeners series and its first spin off movie.
One of his new projects, Gaelic TV drama Bannan, will get its premiere at this year's Edinburgh Film Festival.
The first three half-hour episodes of Bannan will air on BBC Alba in September.
A further 15 episodes have been commissioned and developed by Young Films, with the first block of filming also set to start in September on location in Skye.
Young Films will also launch a new feature film at the Edinburgh Film Festival, the first ever co-production between the Scotland and Portugal, called The Invisible Life.
Mr Young said: "The new long-running drama Bannan will provide a huge impetus for training and production.
"With a long-running TV show and three new feature films set in Scotland to be produced by Young Films, it is certain that Skye will become a hub for film and television production in the future."
The three films in development include an adaptation of Dunbeath-born Neil Gunn's 1941 novel The Silver Darlings.
The others are an original Scottish drama and a new film by Oscar-winning director Kevin Macdonald. Mr Macdonald directed The Last King of Scotland, State of Play and Touching the Void.