Let it grow: Brave-like campaign boosts Norway in US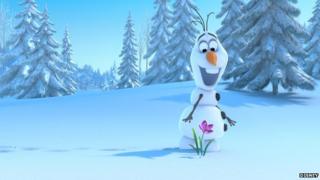 Norway's tourism campaign tied into Disney's Frozen and inspired by one in Scotland linked to the film Brave has gained growing interest in the US.
VisitScotland spent £7m on a joint marketing drive with Disney for the 2012 movie, which was set in Scotland.
VisitNorway has a similar campaign that ties in with Frozen, an adventure about two sisters called Elsa and Anna.
The tourism body said since the drive's launch there had been a "dramatic increase" in Norway among US tourists.
VisitNorway said travel to Norway from the US rose 37% between January and March compared to 2013.
It said it had seen a 350% increase in visitors to its North American website compared to normal following last winter's release of Frozen.
It also said the number of people searching for flights to Norway from the US rose by 153%, according to the website Flight Tracker.
The airline Norwegian Air Shuttle has reported a 52% increase in passengers on routes from the US to Oslo in March 2014 compared to March last year.
Figures for visits from the UK are expected to be released later this year.
Frozen was influenced by Norway's landscape and also Hans Christian Andersen's story The Snow Queen.
Last month, the animated film became the fifth highest-grossing film in box office history.
The Oscar-winning movie has taken $1.219bn (£723m) worldwide.
Catherine Foster, country manager at VisitNorway UK, told the BBC News Scotland website in February that Scotland's Brave tourism campaign had been an influential factor.
Last year, VisitScotland said Scotland was seeing the benefits of its multi-million pound global marketing effort.
The tourism body said part of the activity in its joint marketing campaign with Disney had reached 505 million people worldwide.
VisitScotland said the first of thousands of people had started coming to Scotland because of Brave.
The visits are forecast to generate £120m over five years for the economy.
Over the next 10 years, Brave is expected to generate more than £140m in business for Scotland, according to VisitScotland.