First chick of the season hatches for Loch Garten osprey EJ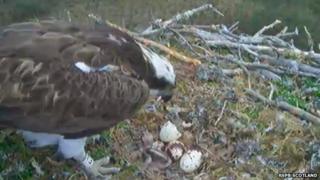 The first chick of the season has arrived at the Loch Garten Osprey Centre in the Highlands.
The new arrival was spotted on the nest webcam as it made its first appearance late on Saturday.
The chick is the first of three expected to hatch under the watchful eye of veteran female osprey EJ and her partner Odin in the next few days.
This year marks EJ's 12th consecutive season at Loch Garten.
At 17 years old, she is one of the most experienced and well-known birds to visit the RSPB reserve.
She returned to the Cairngorms two months ago after making the 3,000 mile (4,828km) journey from wintering in West Africa.