Lanes on Kessock Bridge at Inverness to be reopened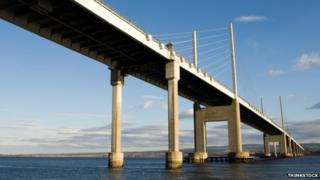 The Kessock Bridge at Inverness could fully reopen during the day at least a month ahead of the scheduled completion of major roadworks.
One lane in each direction on the crossing has been closed since February and they were not due to reopen in any form until the end of June.
Contractor Bear Scotland said it hoped that the lanes could be opened during daytime in the next few weeks.
The closures would be reinstated overnight.
The roadworks are part of a £13m resurfacing and repair programme.
About 30,000 vehicles use the bridge every day making it one of Scotland's busiest crossings.
The first phase of the resurfacing works took place last year. During that time, 1,000 fewer cars used the crossing.