Concerns over armed police officers at routine incidents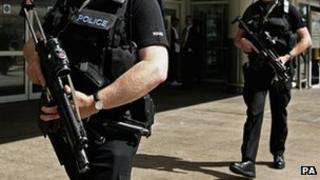 An MSP has raised concerns about armed officers supporting colleagues on routine duties such as dispersing late night crowds leaving pubs and clubs.
John Finnie said officers were regularly carrying handguns, including in the Highlands and Islands, an area dubbed one of the safest in the UK.
Police Scotland said armed response officers have been "routinely armed" since the launch of the force in 2013.
A senior officer said they had a role in keeping people safe.
Independent Highlands and Islands MSP and former police officer Mr Finnie said he was "concerned greatly" by the situation.
He said before the launch of the new single police force in April last year, armed officers were deployed in a vehicle with the weapons locked in a safe in the boot.
Guns could only be removed from the safe with the authorisation of a senior officer, said Mr Finnie.
Mr Finnie said: "They are now routinely wearing them. That in its self concerns me.
"The fact they are deployed in support of police officers at routine police incidents - for example the dispersal of people from public houses and night clubs - is, I think, a recipe for disaster and I am deeply concerned about it."
'No need'
Mr Finnie said police carrying guns, along with the appearance of a riot van, have "no place" in the Highlands and Islands.
He said it had been an area previously held up as an example of where community-style policing worked.
The MSP added: "As we come into the summer, officers will be wearing shirt sleeves and uniform that will make the firearms even more visible."
Danny Alexander, Liberal Democrat MP for Inverness, Nairn, Badenoch and Strathspey, said the Highlands and Islands was known as one of the safest parts of the UK.
He added: "This development is distressing and many Highlanders, myself included, will be shocked by the new police tactics.
"Before Northern Constabulary was disbanded, there was a secure armed unit ready to respond in a crisis. There is simply no need for officers to carry firearms in the Highlands."
Ch Insp Charles Armstrong said specialist officers had an important role in Police Scotland.
He said: "All officers within specialist services, which includes armed policing, are deployed in support of their colleagues in territorial divisions.
"They have their part to play in keeping people safe and that includes addressing concerns within communities and responding to calls.
"I can confirm that armed response officers within Police Scotland are routinely armed and have been since 1 April 2013."