Land Rover in sea sparks search at Tolsta in Lewis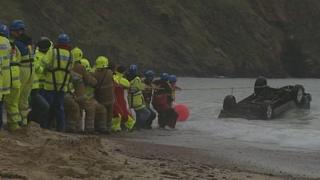 A major search operation was sparked in Lewis at about 18:00 on Tuesday following the discovery of a Land Rover in the sea.
The Stornoway Coastguard helicopter, a lifeboat and coastguard shore team were called to the scene at North Tolsta.
However, they were later stood down after the owner of the vehicle was traced elsewhere, safe and well.
The Land Rover had got stuck in sand and been left on the beach while the driver went to get help.
It was then taken out on the high tide.
The owner, who had been using the Land Rover to launch a boat, was expected to retrieve the vehicle later on Wednesday.