Ecologist challenges RSPB Scotland's woodlands plan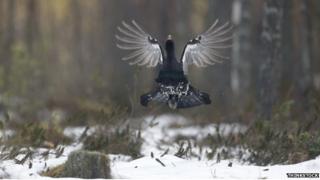 An ecologist has challenged RSPB Scotland's plan to regenerate woodlands in Speyside by planting 100,000 trees.
The charity proposes planting birch, willow, aspen and alder to create a "seed source" of native trees at Abernethy National Nature Reserve.
RSPB Scotland said humans and climate change had led to a loss of wooded habitat in the area.
But Dr James Fenton said the woods had declined naturally because of changes in climate and the soil.
He told BBC Radio Scotland: "Woodlands expanded in Scotland after the Ice Age and then they started to decline naturally.
"If we suddenly decide we want to reverse that decline, it is going against the natural ecological characteristics of Scotland."
'Lost habitat'
Desmond Dugan, a member of a small team that manages the reserve, said RSPB Scotland was seeking to enrich a pinewood habitat.
He said domestic grazing and fires had caused declines in tree such as birch and willow.
Mr Dugan said the plan was to regenerated a "lost habitat" of woodland and open ground.
He added: "The species we propose to plant over the next 10 years will be planted by hand, and we will not be using mechanical preparation or putting up deer fences."
The nature reserve, near Nethy Bridge, provides habitat for birds such as capercaillie, crested tit and Scottish crossbill.