Bird of prey deaths: Local farmers 'have nothing to hide'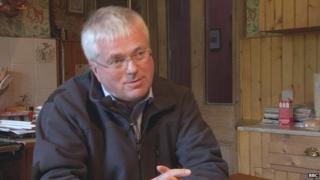 A farmer whose properties were raided by police investigating the deaths of 20 birds of prey has called for more resources to be directed at the investigation.
Several of the dead birds were found in the vicinity of Ewan Macdonald's land at Conon Bridge in Ross-shire.
But in an interview with BBC Scotland, Mr Macdonald said he and the local farming community had nothing to hide.
He called for an action group to be set up to investigate the killings.
The 14 red kites and six buzzards have all been found in an area of about two square miles to the south east of Conon Bridge since 18 March. Tests have shown 12 of the birds were poisoned.
Mr Macdonald's three farms, including his home, have been searched by police who found nothing which linked him to the deaths. Officers examined his sheds, barns and even his bedroom.
He said the reputation of the local farming community, which has actively encouraged the reintroduction of red kites in the area, is being tarnished.
And the prominent farmer called for the formation of an action group made up of landowners, the police and the RSPB to get to the bottom of the killings.
Speaking publicly for the first time, he said: "All of the farmers are saying they are very concerned about this because we are worried that our industry again gets its name blackened.
"Hopefully - and I am almost 100% certain - it has nothing to do with the farming industry and I would find it very shocking and very surprising if it was.
"As an industry we are desperate to get to the bottom of this and that is why I want us to get together and see if we can pool resources together."
Mr Macdonald said the investigation should focus on establishing where the poison is, who had put it there and why it was killing so many birds of prey.
And he said he was puzzled as to why no other animals appeared to have been killed by the poison.
There could be an innocent explanation for the deaths, he argued, such as a virus or somebody feeding meat to birds of prey which they do not realise has been contaminated.
Pointing out that police have not revealed what poison was responsible for the deaths, he added: "If we knew the poison that would maybe give us some sort of idea what to look for.
"We have nothing to hide but I would like to get round a table with all of the organisations and see if we can put some sort of plan together to get the bottom of this".
Describing how red kites were a common sight over his land, he said: "They hover over the lambing field because they like picking up the remains of the afterbirth of lambs. They do no harm at all to the lambing field whatsoever.
"Our men love seeing them and we are very fond of them. It is only in the last 20 years that the population has built up quite dramatically. We are absolutely devastated by what has happened over the past two or three weeks".
On Saturday a public protest over the deaths was held in Inverness.
Police Scotland, RSPB Scotland, the Scottish SPCA and Scottish Natural Heritage have been involved in investigating the deaths.
A reward of £26,000 has been offered for information which leads to a conviction in the case.
Police have appealed for people to report any suspicious activity, with anyone who finds dead birds or animals in the area asked to note its location and inform police.
But under no circumstances should anyone touch or attempt to recover any dead animal or bird, officers have warned.