Birds of prey deaths in Ross-shire increase to 20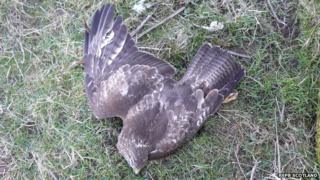 The number of birds of prey found dead in Ross-shire has risen to 20.
The 14 red kites and six buzzards were discovered in an area of about two square miles to the south east of Conon Bridge around Conon Brae, Balvail, Leanaig and Alcaig.
Tests have so far confirmed that 12 of them were poisoned.
A reward for information about the deaths last week increased to £26,000 after extra donations from farmers, landowners and the public.
Many of the birds, the first of which was found on 18 March, had been tagged and ringed.
On Saturday a public protest over the deaths was held in Inverness.
Scores of people, carrying cut-outs of birds dubbed "ghost raptors", joined a march and rally to express anger at the deaths.
Police Scotland, RSPB Scotland, the Scottish SPCA and Scottish Natural Heritage have been involved in investigating the deaths.
Ch Insp Ross MacKillop, local area commander for Ross and Cromarty, said: "I would like to take this opportunity to thank landowners, farmers and members of the local community in the Black Isle area for their patience, co-operation and assistance in dealing with this matter.
"All of our officers report that they received a great level of support and this is much appreciated. The most effective response to incidents like this is not just an appropriate police response but also a positive community response and that is what we continue to receive."
Police have appealed for people to report any suspicious activity.
Anyone who finds dead birds or animals in the area is asked to make a note of its location and inform police.
Officers said that under no circumstances should anyone touch or attempt to recover any dead animal.
The RSPB initially put up a £5,000 reward which was doubled by an anonymous donation, with further pledges coming from members of the public.
Members of the landowners organisation Scottish Land & Estates and NFU Scotland then contributed £12,000.