MSPs to take evidence on geese numbers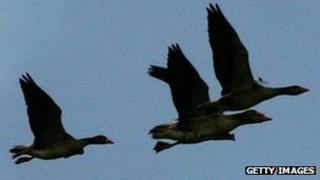 Holyrood's rural affairs committee plans to gather evidence on reports that increased numbers of geese harm grazing land in parts of Scotland.
Farmers and crofters in lowland Scotland and the Highlands say the birds eat too much grass grown for livestock production.
The Scottish Crofting Federation and NFU Scotland have been calling for greater controls on the numbers.
It has been estimated that there were 10,000 geese in the Uists.
Committee convener and SNP MSP Rob Gibson said evidence of the problem would be gathered over the next few months.
He said: "The problem of growing geese numbers is far more widespread than in the crofting areas.
"I have seen for myself how grass and seeded crops are being ruined on a monumental scale."