NHS Highland committee rejects Castletown pharmacy plan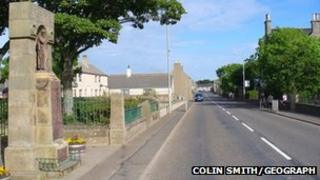 A plan for a new pharmacy in Caithness has been rejected by the NHS Highland Pharmacy Practices Committee.
Glasgow-based Apple Pharmacy Group had applied for permission to open the chemist in Castletown.
Local GPs dispense as well as prescribe medicines and there were concerns that the viability of the practice would be harmed if the pharmacy opened.
Applicant Sanjay Mahju said the business was not a threat to the GPs.
He had sought permission to open up a premises in a former chip shop on MacKay Street.
Many members of the community opposed the plan.
NHS Highland said the pharmacy committee had to determine whether allowing the application was necessary, or desirable, in the area.
A spokeswoman said public consultations by the applicant and the health board had shown "a complete lack of support for a pharmacy in this area.
"While it was acknowledged that there are currently no pharmaceutical services within the area it was agreed that, as residents can access these services easily in Thurso, the applicant had not been successful in proving inadequacy of pharmaceutical services."
The decision to refuse the application was unanimous.