HIE temporarily moving back into Inverness city centre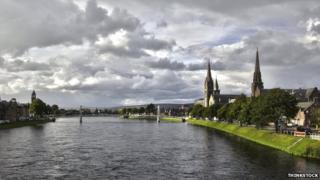 Public agency Highlands and Islands Enterprise (HIE) is to temporarily move about 106 staff at its headquarters back into Inverness city centre.
HIE moved from the city's riverside to Cowan House, on the outskirts of Inverness, in the late 1990s.
The organisation's return to the centre will only be for about 18 months while its new offices are built at Inverness's Beechwood Campus.
The campus is also an out-of-town location.
Staff will transfer from Cowan House to telecom giant BT's Fraser House in Friar's Lane at the end of May.
HIE said: "Fraser House was chosen as a result of a careful review of options. It was one of few available locations in Inverness which could accommodate staff and also proved best value for the public purse."
Mike Smith, of Inverness Business Improvement District, said city centre businesses would welcome the return of HIE staff.