Scottish businesses complain of high delivery costs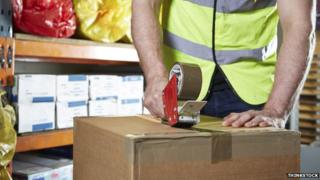 Hundreds of businesses have complained of having to pay more for deliveries because of their postcodes.
Citizens Advice Scotland (CAS) received responses from 250 businesses to a survey held in February on delivery charges.
CAS said 90% of businesses said they were charged extra because of where they were located.
Also, 76% said having to pay more for deliveries had a substantial impact on their business.
Almost nine out of every 10 businesses who responded reported that they regularly faced an additional surcharge for delivery due to their geographic location.
CAS has been campaigning against high delivery charges for a number of years.
Previously, the organisation has investigated shipping costs to residential properties across Scotland.
'Pricing policies'
CAS policy manager Keith Dryburgh said it was estimated that 15,000 businesses could be having to pay more because of their postcode.
He said: "But this is not just a rural issue. It affects big cities and towns and postcodes covering over half of Scotland.
"We have found in previous research that many companies base their delivery fees purely on postcodes, rather than on the actual cost of delivering an item.
"Mark-ups can be as much as 50%, which can be devastating to a small business which has to buy in stock."
Mr Dryburgh added: "Many companies also refuse to deliver to certain areas at all, while others have pricing policies which are unclear or actually misleading."
The results of the CAS survey have been published amid calls by some for Caithness and North Sutherland to be given a new postcode instead of one connected to Kirkwall, over the sea in Orkney.
The Scottish government has also been seeking to tackle high delivery costs, and has held meetings with online retailers.
With Citizens Advice Scotland, it also set up the parcel delivery working group.