CairnGorm Mountain's new operator confirmed as Natural Retreats UK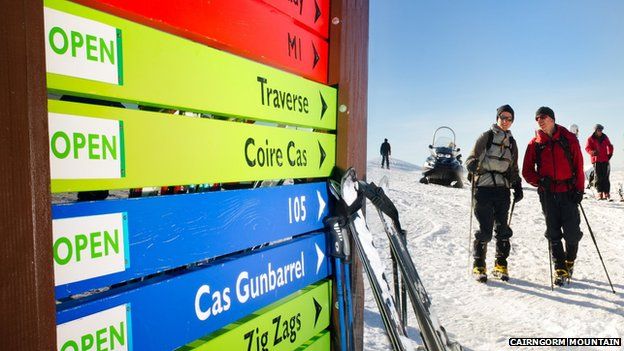 A leisure business is to take over the running of the CairnGorm Mountain snowsports centre, near Aviemore.
Wilmslow-based Natural Retreats UK was named in February as the preferred bidder for the centre, which includes Scotland's only funicular railway and the UK's highest restaurant.
The appointment was confirmed by owner Highlands and Islands Enterprise.
The railway connects a base station with the Ptarmigan Restaurant 1,097m (3,599ft) up Cairn Gorm mountain.
Natural Retreats owns holiday accommodation at a number of locations in the UK and elsewhere.
Its 25-year lease for the running of CairnGorm Mountain starts in June.
Natural Retreats said it would invest £6.2m in the resort over the next five years. HIE has also given the company a £4m loan to develop a new day lodge.
Alex Paterson, HIE's chief executive, said: "Natural Retreats has the vision, ambition and experience to enable the resort to fulfil its potential as a world-class visitor destination.
"Their plans include the further development of snowsports and diversification of the business into a high quality, year-round attraction."
He added: "Natural Retreats' ambition to attract new visitors to CairnGorm will produce spin-off opportunities for other local businesses in the tourism sector, especially in Strathspey."
Matt Spence, founder of Natural Retreats, said he hoped to attract the international winter and summer X Games to the Cairngorms.
X Games sports include skateboarding, snowboarding, skiing and BMX.
Mr Spence said: "I am immensely thrilled with the appointment of Natural Retreats as operator of CairnGorm Mountain.
"We truly believe Natural Retreats will elevate CairnGorm Mountain as one of the leading leisure and adventure resorts in Europe."
Related Internet Links
The BBC is not responsible for the content of external sites.