Online donations to boost bird poisonings reward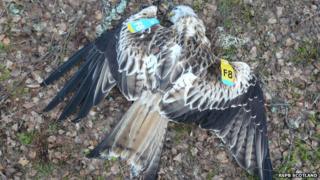 A charity has been inundated with offers to contribute to a reward for information about the deaths of 16 birds of prey in the Highlands.
Four buzzards and 12 red kites have been found in the last two weeks near Conon Bridge, with tests showing several had been poisoned.
RSPB Scotland has now set up a Justgiving web page.
Meanwhile, police have said a dead peregrine falcon found in Abington in Lanarkshire in February was poisoned.
In the Highlands, all of the carcasses were discovered in a two square mile area to the south east of Conon Bridge around Conon Brae, Balvail, Leanaig and Alcaig.
Police are working with the RSPB, the Scottish SPCA and experts from the Scottish Agricultural College to investigate the deaths.
RSPB Scotland initially put up a £5,000 reward for information which was then doubled with an anonymous donation.
'Voicing anger'
Duncan Orr-Ewing, head of species and land management at RSPB, said: "Our staff have been inundated with calls from concerned members of the public voicing their personal anger and frustration about this appalling incident and calling for firm action by the authorities against the perpetrators.
"Many have said they would like to contribute financially to the reward already on offer, and this Justgiving webpage will allow those who wish to do so.
"We urge anyone with information to contact Police Scotland as soon as possible."
In a separate incident, a dead peregrine falcon was discovered in the Abington area on 17 February by a member of the public.
Tests carried out by analysts at the Centre of Science and Advice for Scottish Agriculture showed the bird was poisoned.
Police have appealed for anyone with information about this case to contact them.