Solution suggested for Berriedale Braes A9 hairpin bend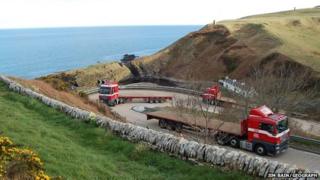 The design of the preferred option for tackling a notorious hairpin bend on the northernmost section of the A9 has been published.
The trunk road drops from 150m (492ft) to 20m (65ft) as it enters a valley at the Berriedale Braes in Caithness.
Ground investigation work was done in the area to help guide the design of the potential solution to the bend.
Transport Scotland has asked people living in and around Berriedale to comment on the plans.
Transport Minister Keith Brown said: "The natural geography at Berriedale Braes, with a steep gradient and hairpin bend, is a very challenging road alignment, especially for HGVs and other long vehicles.
"The fact that a preferred option is now on display is clear evidence of our commitment to find a solution and improve this important section of the road between Inverness and Thurso."
Mr Brown added: "We will continue to work with our partners to progress the Berriedale Braes scheme as a matter of urgency.
"Once we have considered all the comments to our proposals, push on and publish the final scheme outline later this year."