Highland birds of prey deaths at Conon Bridge increase to 16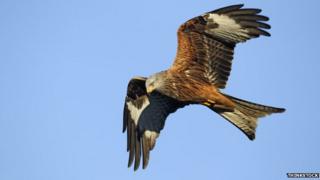 The number of birds of prey found dead within a two-mile area has now risen to 16.
Four buzzards and 12 red kites have been found in the last two weeks near Conon Bridge in the Highlands.
The RSPB described the number as "shocking" and has now put up a £5,000 reward for information relating to the deaths.
Post-mortem examinations on the birds are ongoing but poison has been detected in "several of the birds".
All of the dead birds have been discovered in a two square mile area to the south east of Conon Bridge around Conon Brae, Balvail, Leanaig and Alcaig.
Police are working with the RSPB, the Scottish SPCA and experts from the Scotland's Rural College on the investigation.
Officers are advising anyone who finds any further dead bird of prey to note its location and inform them, without attempting to recover it.
'Real threat'
Duncan Orr-Ewing, head of species and land management at the RSPB, said: "This appalling incident highlights the very real threat illegal poisoning poses to fantastic species like red kites.
"We are offering a £5,000 reward for information that leads to a successful conviction. We urge anyone with information relating to this incident to contact Police Scotland so the perpetrators can be identified and brought to justice."
The deaths come as figures published last week showed that six birds of prey were illegally poisoned last year.
A red kite, a golden eagle and four buzzards were poisoned in 2013, double the number for the previous year but well below a peak of 30 in 2009.
Figures from the Partnership for Action Against Wildlife Crime (PAW) Scotland reveal there were a total of 15 recorded crimes against birds of prey including shootings, trappings and nest destruction last year.