Thirteen birds of prey found poisoned in Ross-shire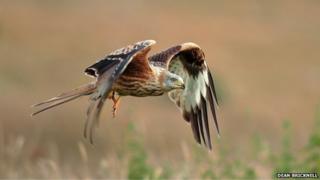 Thirteen birds of prey have now been found dead in an area around Conon Bridge and Muir of Ord in Ross-shire.
Police Scotland said tests done so far had confirmed that six of the raptors were poisoned.
The nine red kites and four buzzards were found at different, but nearby, locations since 18 March.
The latest update to the tally of dead birds found has come the same day a new report revealed the number of raptors illegally poisoned doubled last year.
Figures from the Partnership for Action Against Wildlife Crime (Paw) Scotland showed six birds were found to have been illegally poisoned.
The numbers remain well below a peak of 30 poisoned birds recorded in 2009.
Police said the 13 birds had been found within a 5 sq km (two sq mile) area to the south east of Conon Bridge around Conon Brae, Balvail, Leanaig and Alcaig.
A spokesperson said: "Seven of the birds have undergone post mortems and six of these have confirmed as having been poisoned.
"Due to this discovery the initial inquiry has now been confirmed as a wildlife crime."
RSPB Scotland described the latest rise in the number of dead birds as "devastating".
Scottish Gamekeepers Association chairman Alex Hogg said the discovery of some many birds in one area was "unprecedented and alarming".