Highland raptor deaths rise to 11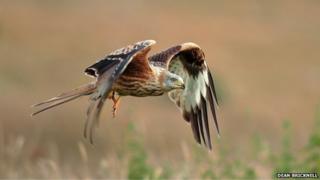 Eleven birds of prey have now been found dead in an area around Conon Bridge and Muir of Ord in Ross-shire, BBC Scotland has learned.
Six of the raptors - five red kites and a buzzard - were found at different, but nearby, locations between 18 and 24 March.
The other dead birds are also red kites and buzzards.
Police Scotland has asked that members of the public contact the force if they find any other dead birds of prey.
Scottish Gamekeepers Association chairman Alex Hogg said: "The number of birds being found is hugely worrying and suggests something is very much amiss here."
Poisoning is suspected to be the cause of the birds' deaths. Toxicology tests are being carried out.
Environment Minister Paul Wheelhouse said: "The loss of such a number of birds of prey is worrying. Just the impact on the ecosystem and number of birds is worrying."
The minister also said that if the reports confirmed the use of poisons, it could present a danger to the public.
He added: "If the toxicology report concludes that there is poisons involved, that clearly poses a risk to public health, especially when you have chemicals like carbofuran which are highly toxic and put anyone who comes into contact with them at risk."