Plans for dualling A9 move ahead of schedule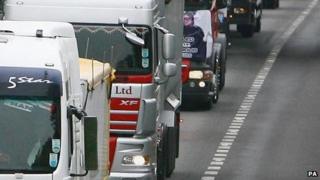 Plans to make the A9 a dual carriageway between Perth and Inverness are ahead of schedule with new sections road set to be ready for dualling by 2017.
Transport Minister Keith Brown said plans to dual the trunk road had been revised, with earlier start dates.
The plan is the biggest ever transport project undertaken in Scotland and will cost £3bn by its completion in 2025.
A new landscape policy has been announced for the project to protect the environment around the road.
The revised production plan will see work on the road split into 12 sections instead of the original nine. The additional, smaller sections will mean work can be completed more quickly and with less disruption to motorists.
'Challenging programme'
The three new sections, which will be completed ahead of schedule, are the 10.5km Pitagowan to Glen Garry, the 8.3km Dalwhinnie to Crubenmore, and 9.3km Tomatin to Moy stretches.
The transport minister said: "This is the first time any government has committed to dualling the A9 between Perth and Inverness, the biggest transport project, by cost, in Scotland's history, and the challenging programme of work remains on schedule for completion by 2025.
"As a result of the detailed environmental and engineering survey work that has been going on along A9 between Perth and Inverness, we are providing further details which will see the programme divided into twelve distinct schemes from the original nine, allowing three new sections of the route to be accelerated through the complex design and legal process."
Along with the news that the dualling is ahead of schedule, a new landscape policy was announced for the project. This policy aims to make sure that there is minimal disruption to the environment due to the construction work.
'Fitting Landscapes'
This commitment to trying to maintain the environment was welcomed by Cairngorms National Park Authority spokesman Don McKee.
Plans for the proposed dualling of the A9 section between Luncarty to Pass of Birnam were also published, with the public invited to give their views on them at a number of public exhibitions next month.
The Scottish Liberal Democrats attacked the government over the announcement. Highland MP Danny Alexander said: "Strengthening the spine of Scotland by dualling the A9 is a vitally important infrastructure project for the Highlands.
"If the SNP put as much effort into getting work under way as they do into writing press releases about it, we would already be well on our way"
He added: "The project is 'shovel ready' now. We should not have to wait another three years before work can be started."