Wolf top dog in BBC Countryfile reintroduction poll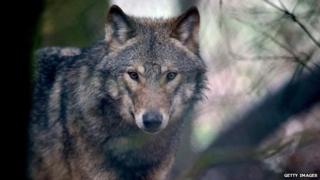 Wolves have been leading an online poll of animals people would like to see re-introduced to the British countryside.
European lynx and beavers have been joint second in the survey run by the BBC's Countryfile Magazine. Fewer votes have favoured bears and wild boar
The magazine launched the poll following its interview with Highland landowner Paul Lister.
Mr Lister has a long-term plan to release wolves and bears on his Alladale Estate in Sutherland.
More than 400 votes have been cast so far in the online poll.
Elk and wild boar were introduced on a trial basis to the 23,000-acre Alladale Estate in the past, but Highland cattle are the biggest animals to be found there today.
Mr Lister's proposals to bring in wolves and bears have drawn criticism.
Farmers, walkers and legal experts have all expressed their opposition to the scheme.
Last December, wolves featured on a list of Scottish wildlife that people have concerns about in terms of conservation.
The wolf was hunted to extinction in Scotland in the 1700s with some of the last killed in Sutherland and Moray.
But a small number of respondents to the Scottish Nature Omnibus Survey mentioned the mammal when asked what wildlife they were most worried about.
Deer, red squirrel and Scottish wildcat topped the list.
Commissioned by Scottish Natural Heritage, the survey is held on a regular basis to gauge public awareness of Scotland's natural world, and the efforts to protect and manage it.
Wolves have featured in the survey since 2011. Just 1% of respondents mentioned the predator in the latest survey.
However, people did rate it ahead of creatures that do inhabit Scotland and have conservation issues, such as puffins, voles, red kites and ptarmigan.