Inverness and Loch Ness tourism district plan backed by businesses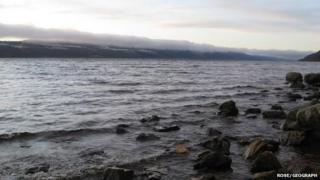 Inverness and Loch Ness are set to form the UK's first Tourism Business Improvement District (Bid).
Businesses in the area were balloted on the plan, which will see them work together to boost tourist numbers and improve the visitor experience.
A total of 360 firms were eligible to take part. More than 80% of the 152 that voted backed the proposal.
The scheme could generate £1m over five years, which would help fund marketing and infrastructure improvements.
A statement on the Inverness and Loch Ness Tourism Business Improvement Destination website said: "Tourism businesses endorsed the plans today in a ballot.
The electorate consisted of 361 businesses. Of the 152 who returned their ballots, 123 voted in favour and 29 against."
The existing tourist organisation, Destination Loch Ness, will cease trading and a new body, encompassing Inverness, Loch Ness and the surrounding area, will be set up to implement the tourism Bid's five year business plan.
The new group will target the conference and business tourism sector, invest in new online services for members, and deliver infrastructure improvements.
Two projects already identified are the completion of a trail on the south side of Loch Ness and the removal of trees which block views of the loch from roadside lay-bys.
Project manager Graeme Ambrose said: "We are delighted that tourism businesses have recognised the strength of Inverness and Loch Ness joining forces to create one of the UK's most iconic visitor destinations.
"Both are hugely strong tourist attractions in their own right, but marketed together they create a unique attraction for business and leisure visitors, one that combines the mystique and allure of Loch Ness with the vibrancy of Inverness."
Highland Council leader Drew Hendry said the result "provides a fantastic opportunity to market and promote Inverness and Loch Ness".
'New visitors'
And the Scottish government's tourism minister, Fergus Ewing said: "The Inverness and Loch Ness area is one of the most visited parts of Scotland and the positive ballot result shows local support and enthusiasm for working together to maximise opportunities to further promote all the area has to offer."
SCDI's Highlands and Islands Director, Fraser Grieve, said the move would help to bring businesses together to help promote the area and ensure visitor expectations are met.
He added: "We are blessed with one of Scotland's most recognised natural landmarks and with some outstanding visitor attractions and quality accommodation provision.
"I hope that this tourism Bid will help to ensure that we make the most of what we can offer as a destination, and attract new visitors to the area."