Fort William police renew appeal on bloodied baby suit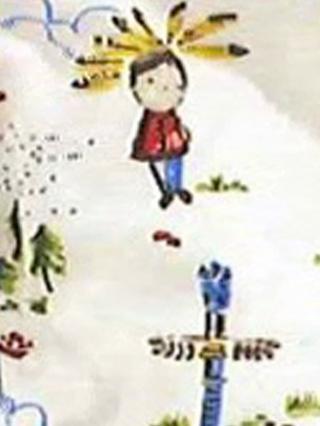 Police have released an image of the motif on a baby sleepsuit that was found with blood stains on a path in Fort William on Tuesday morning.
Officers have carried out searches of the Plantation and Upper Achintore areas of the town.
Police Scotland said forensic scientists had confirmed the blood was human and were "open minded" about how it got on the clothing.
The Next brand sleepsuit has not been available for sale since 2010.
Det Insp Richard Baird said the clothing was believed to have been discarded on the path sometime after 08:00 on Monday.
He said: "The item was recovered by police and subsequently examined by forensic scientists.
"It is a Next product for the zero to one month age group and was available in 2010 for online and catalogue purchase as part of a pack of three assorted baby-grows."
The senior officer added: "There are a number of possible explanations as to how the baby-grow came to be found with blood on it and we remain open-minded about this.
"Our primary role is in keeping people safe and our immediate enquiry is focussed on the wellbeing of all infants aged up to three months known to be living in the Fort William area.
"Having achieved this, through the assistance of our partners in health services and social work, we are now following a number of other lines of enquiry in relation to this garment."