Philip Hammond amends statement on Vulcan radiation incident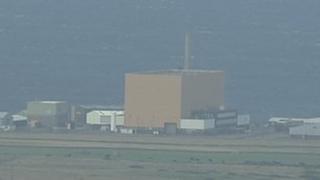 Defence Secretary Philip Hammond has issued a correction in parliament to an answer concerning an incident at the Vulcan submarine reactor test site.
A political row has broken out over a radiation problem at the Ministry of Defence (MoD) site adjacent to Dounreay in Caithness.
Last week Mr Hammond said a radioactive discharge had been discovered at a test reactor in 2012.
The Scottish government said it was not informed at the time of the incident.
Mr Hammond has now corrected part of an answer he gave to a question from Labour MP Andrew Miller.
The correction changes the line "there has been no measurable change in the radiation discharge" to "no measureable change in the alpha-emitting particulate discharge".
The Scottish government and SNP MP Angus Robertson have strongly criticised the UK government and MoD for not revealing details of the incident until last week.
The Scottish government is also now making plans to remove the MoD's powers for environmental regulation on radioactivity in Scotland.
Scottish ministers said the arrangement had been "abused" and the public had been misled over operations at Vulcan.
They said all Scotland's environmental regulation should in future be run from Scotland.
The UK government said there were no safety concerns following the incident two years ago.