Two sperm whales spotted off the coast of Skye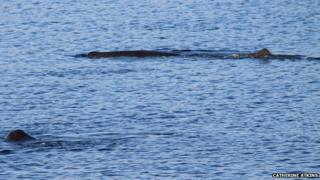 Two sperm whales have been spotted off the coast of Skye.
The Sea Watch Foundation said it was unusual to see the deep-diving species off Scotland.
But it added that sightings may increase because warming sea temperatures were drawing squid, the whales' prey, into Scottish waters.
Catherine Atkins spotted the whales at Camus Mor, Gedintailor, Braes, Portree on Tuesday afternoon. Sea Watch identified them as sperm whales.
In April last year, a sperm whale spent almost nine days in the shallow waters of Oban bay before swimming out to sea.
Lone whales were also seen off Skye in 2011 and Canna in 2008.
Also in 2008, a 40ft-long (12m) sperm whale beached in the Inner Moray Firth and later died.