Caley Jags song released ahead of league cup final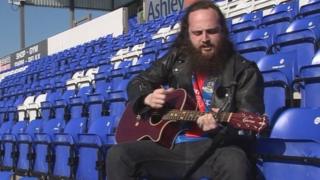 A song has been released in support of Inverness Caledonian Thistle ahead of the team's Scottish League Cup Final match against Aberdeen on Sunday.
Called ICT, it has been recorded by Highlands-based rock and roll band Toby Michaels Rolling Damned.
Sales of the single will raise money for the club's development trust.
Following the band's debut gig in 2012, Toby Michaels Rolling Damned has played at the Belladrum Tartan Heart Festival.
The band has also performed at wrestling events in Inverness.
More than 7,000 Caley Thistle fans are expected to turn up at Celtic Park for the final.