Walkers rescued after night on Buachaille Etive Mor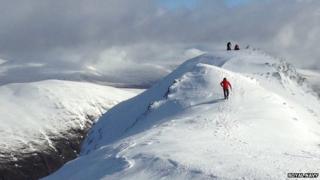 A Royal Navy helicopter crew has rescued two walkers from the summit of Buachaille Etive Mor in Glencoe.
The men were mildly hypothermic after they were forced to spend a night on the mountain. One of them also had a leg injury.
A Royal Navy search and rescue helicopter from HMS Gannet at Prestwick went to their aid on Tuesday morning.
The crew had to fly in 60mph winds at the top of the 3,350ft (1,021m) mountain.
The navy said the walkers were well-equipped.
Lt Cmdr Martin Lanni added: "Although we found the walkers very quickly, we had to abort our first attempt to get in close to them.
"The helicopter was caught in a strong downdraught and, as we were unable to hold any kind of stable position safely, we were forced to fly away from the scene.
"At the second attempt, however, we did manage to get in closer.
"We considered winching to reach them, but, again, the volatile, strong wind - this time creating strong updraughts - was causing us to have to fight to maintain any kind of steady hover."
The helicopter's observer, Lt Cmdr Rob Suckling, was able to leave the helicopter and walk to the two walkers.
Lt Cmdr Lanni said: "At one point he had to sit down on the snow for fear he was going to be blown over on the exposed ridge. He checked they were OK and got them safely on board the aircraft.
"I'd say they were pretty relieved to see us."
The walkers were flown to where members of Glencoe Mountain Rescue Team were waiting at the bottom of the mountain.