Six-year maintenance of Inverness town house to cost £7.25m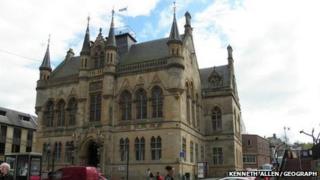 Firms are to be invited to tender for a £7.25m contract to maintain Inverness town house for the next six years.
Highland Council officers said significant work was needed to bring the 131-year-old building up to a good standard and tackle crumbling masonry.
Built to a Flemish-Baronial style, the town house was opened in 1882 by Queen Victoria's second son, Alfred.
Councillors have agreed that the contract for the maintenance of the building be put out to tender.
The building is owned by the Inverness Common Good Fund and is a working local authority building.
In 2012, councillors scrapped a plan to move all meetings away from the town house.
Meetings of Highland Council's Inverness city committee were to be shifted to the local authority's headquarters in Glenurquhart Road.
But councillors were concerned the move would diminish the role of the town house.
The building hosted the only gathering of a Liberal Prime Minister David Lloyd George's UK government cabinet outside London.
He was on holiday in Wester Ross and brought his ministers together in Inverness in September 1921.
The meeting was called following Ireland's rejection of the King. Lloyd George had been in holiday in Gairloch at the time.