Two times Oscar winner inspired to make film in Scotland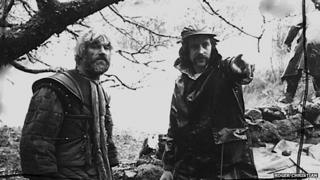 A film-maker and winner of two Academy Awards has spoken of his desire to shoot a new movie in Scotland.
In the 1980s, Roger Christian won his first Oscar for his work on Star Wars: A New Hope and his second for his best live action short, The Bottom Dollar.
Toronto-based Christian has visited Scotland for the first time since 1979 when he made short film Black Angel.
At an event in Inverness he said seeing the locations again made him want to make another film in Scotland.
Black Angel was commissioned by Star Wars creator George Lucas and made on a shoestring budget.
Locations included Steall Falls in Glen Nevis, Loch Eck in Argyll and Dunoon Riverside Health Club's swimming pool.
Another location was the ruins of Bernera Barracks, an 18th Century red coats base in Glenelg - a Highland community twinned with a geological area called Glenelg on Mars in a ceremony involving Nasa in 2012.
Black Angel was shown in cinemas before screenings in Europe, Asia and Australia of Star Wars: Episode V - The Empire Strikes Back in 1980.
It is an Arthurian tale of a knight, played by Tony Vogel, who rescues a princess while he is returning home from the Crusades.
For the first time in 34 years, Black Angel has been given public screenings in Scotland.
Over the past few days it has been shown in Glasgow, Dundee, Inverness and Edinburgh. The tour was organised by Guy Veale, who saw Black Angel when he was five years old and living in Shetland.
Before the screening at Eden Court in Inverness on Saturday night, Christian and Veale visited Black Angel's locations in the Highlands.
Christian, who also worked on Life of Brian and Alien, told the audience in Inverness: "Returning to those places makes me want to make another film in Scotland."
Scotland poster
The Londoner also told how a poster of Scotland on a wall of a Mexican hospital, where he had been admitted as a patient after falling seriously ill during the making of 1970s movie Lucky Lady, both helped him fight to stay alive and inspired him to make a film in Scotland.
He said: "I was near death.
"For some reason on a wall in the room where I was being treated in this small, Mexican village sanatorium was a poster of Scotland.
"It showed lochs. It helped me want to stay alive."
Yvonne Finlayson, Ian Macmillan and Colin Booth who played plague-ridden children in Black Angel were special guests at the Eden Court screening.
Christian was art director on A New Hope, the first film in George Lucas' Star Wars franchise. His work on the movie's set decoration earned Christian his first Oscar.
His second was for The Bottom Dollar, a short film he made in Edinburgh and adapted from a story by Scots writer James Kennaway.