Two walkers injured in Ben Nevis avalanche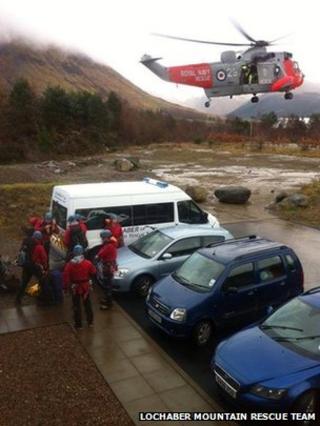 A man and a woman have been injured in an avalanche in the Ben Nevis area.
Police Scotland said the female hillwalker was in a serious condition.
The avalanche in the Coire Leis area of Lochaber was reported at about 13:10. The Lochaber Mountain Rescue Team and a Royal Navy helicopter from HMS Gannet in Prestwick, Ayrshire, assisted with the rescue.
The woman was flown off the mountain and then taken to Belford Hospital in Fort William.
An update posted by the Lochaber Mountain Rescue Team on social media read: "All team returned safe now from the Ben, Brenva face area where two climbers were avalanched and fell 300m approx.
"One with serious head injuries and one walking wounded. Thanks to all team members and R177 for a very efficient package and speedy extrication as time is very much of the essence in these scenarios."
The same rescue helicopter, along with Glencoe Mountain Rescue Team, was later called to assist a man who fell about 20m while hillwalking near Kinlochleven, Lochaber, at about 15:26.
The injured man, who was said to be conscious and breathing, was flown to a waiting ambulance and taken to Belford Hospital.