Record price for Gerald Laing Brigitte Bardot pop art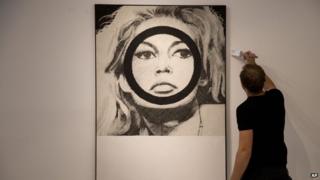 Brigitte Bardot, an early painting by the late British pop artist Gerald Laing, has been sold for a record sum.
The 1963 work sold for £902,500 in an auction at Christie's in London.
It was a new record price for a painting by Laing, who spent a large part of his life in the Highlands and died in 2011.
The artist, who was born in Newcastle-upon-Tyne, sold the painting to a private collector in 1963 for £40 when he was at art school in London.
It remained with the same owner until Thursday evening's sale.
The painting was one of the first where Laing experimented with the monochrome dots which were to become a trademark of his work, and one of the signature techniques of pop art.
Laing considered it to be one of his most significant pieces.
His other works include Lincoln Convertible, the only known contemporary painting of the assassination of John F Kennedy and was displayed at Tate Britain last year.
Laing created the artwork shortly after the shooting of the US president 50 years ago.
But his New York dealer refused to exhibit, fearing that it was too controversial to be displayed so soon after Kennedy's death in Dallas 1963. The painting was put in storage for almost 30 years.
Laing spent much of the 1960s working in New York City and was a close friend of artists Andy Warhol and Roy Lichtenstein.
He was also a sculptor and created a statue of Sherlock Holmes that stands in Edinburgh and also the Exiles, a statue at Helmsdale that recalls the Highland Clearances in Scotland.
Four Rugby Players at Twickenham Stadium, Ten Dragons at London's Bank Underground Station and The Glass Virgins at Standard Life's building in Edinburgh are among his other sculptures.
Laing settled in the Highlands and made 16th Century Kinkell Castle, near Inverness, his family's home.