Crashes and weather shut A9 and A82 in the Highlands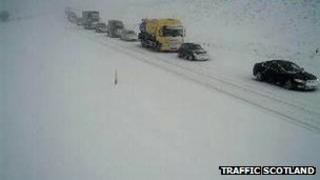 Motorists have been advised to avoid the A9 after several stretches were affected by snow and ice.
The road was closed at Dalwhinnie after an accident between a van and a lorry, with emergency services also dealing with a number of other incidents.
Earlier, the A82 was closed at Ballachulish by crashes and wintry weather conditions.
Traffic Scotland said snow was having a significant impact on roads on higher ground in central Scotland.
Police in Tayside said a van and car collided on the A9 at the Drumtochter Pass at 14:24, while a Mercedes C20 car carrying four adults slid off the road five miles south of the House of Bruar on the A9 southbound.
In the same area, two HGV lorries collided blocking both carriageways, and a lorry broke down on the A9 at Pitlochry with a punctured tyre.
No one was hurt in the incidents, police said.
The emergency services were also called to the scene of a number of minor collisions on the A82, including a jack-knifed lorry. The