Delays expected as work to A9's Kessock Bridge resumes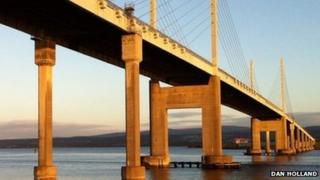 Major roadworks on one of Scotland's busiest bridges have resumed.
One side of the Kessock bridge in Inverness will be closed for the next twenty weeks with a contra flow system in operation.
It is part of a £13m resurfacing and repair programme.
Delays, particularly during rush hour times, are expected. Motorists have been urged to use public transport or alter their journey times to avoid major disruption.
Earlier on Monday, some drivers faced delays of up to an hour.
However, many seemed to have heeded warnings to use public transport or alter journey times.
About 30,000 vehicles use the bridge every day making it one of Scotland's busiest crossings.
The first phase of the resurfacing works took place last year. During that time, 1,000 fewer cars used the crossing.
A spokesman for roads company Bear Scotland said travellers could experience delays of an hour "in the worst case scenario".
He said people switching to public transport and car sharing had reduced waiting times during the previous phases of the work.