Edinburgh charity Dads Rock in Highland playgroup plan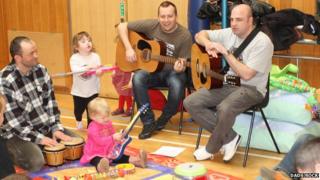 A charity that runs rock music themed playgroups for fathers and their children plans to expand into the Highlands.
Dads Rock was formed in Edinburgh in February 2012 and later set up a group in Fife.
It also runs a Dads Rock Academy which offers free weekly music tuition to parents and children in Edinburgh.
The proposal to start a northern group has support from NHS Highland chief executive Elaine Mead.
The charity's three playgroups involve a total of 200 families and have a regular attendance of up to 70 pre-school children and their dads each Saturday.
Co-founder Thomas Lynch said: "The Highlands would be a perfect area for us.
"I have spent a lot of time in the Highlands and know that isolation, which is one of the issues we aim to tackle, can be particularly acute there."
Ms Mead said she became aware of Dads Rock through an organisation called Highland Early Years Collaborative, which NHS Highland has an involvement with.
She said: "Dads Rock recognises that children need a diverse mix of parenting and that dads have a vital role to play in their children's upbringing."