SSE ordered to tackle 'problem hum' at Beauly substation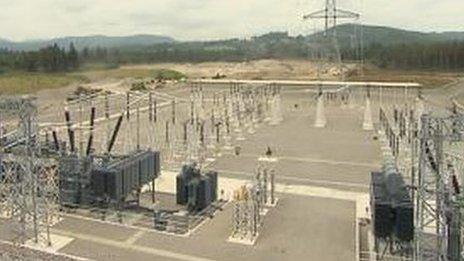 Energy giant SSE has been ordered to tackle a noise problem at a substation built as part of the Beauly to Denny power line upgrade.
Highland Council said it had received an increasing number of complaints about a low frequency humming sound from the site near Beauly.
It has served SSE with a noise abatement notice.
SSE said it was taking the matter "extremely seriously" and was disappointed with council's action.
The company has been given six months to deal with the problem, which has generated complaints from people living near the site at Wester Balblair.
Councillor Graham Phillips said: "The council appreciates the ongoing patience of the residents as this complex investigation progresses to the next stage.
"We would also acknowledge the steps SSE have taken to investigate the source of the noise and their stated commitment to resolving the issue."
Alan Yates, Highland Council's environmental health manager, added: "Our officers have reached the stage of the investigation where they feel it is appropriate to serve an abatement notice to ensure the nuisance is resolved and to provide some reassurance to local residents.
SHE Transmission, a division of SSE, has been served with the notice.
Alastair Brand, Beauly Denny Project director, said: "We are taking this matter extremely seriously and are disappointed that the Highland Council has felt it necessary to serve a noise abatement notice as we have been working closely with the council and the local community to address their concerns.
"We have made a significant amount of progress and there is now a programme in place to resolve the issue."
He added: "This is a complex technical issue and it takes time to design the correct solutions and procure the appropriate equipment in order to deliver the most effective solution."
Work to install acoustic barriers at the substation will start this month.
SSE said the programme for delivering the barriers was dependent on whether SHE Transmission has to seek permission from National Grid to switch off some equipment in order to allow work to be carried out safely.
Related Internet Links
The BBC is not responsible for the content of external sites.