Royal Navy knew Russians were coming says Hammond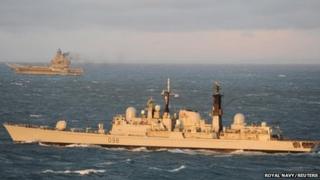 Russia's navy used social media to announce a task group's planned route to the Mediterranean, which included a refuelling stop off Scotland.
Defence Secretary Philip Hammond told of the Russian's use of the websites in a debate in the House of Commons.
The aircraft carrier Admiral Kuznetsov stopped briefly in the Outer Moray Firth to refuel in December.
The Clyde-built HMS Defender escorted the group while it was in the "UK's area of interest", said Mr Hammond.
The minister was responding to challenges from MPs on Monday that the Royal Navy was not prepared for the appearance of the Russian warships.
Mr Hammond said that the Russian task group's deployment was "openly declared" on social media sites.
Nato was also informed of the route and planned training exercises.
Mr Hammond said: "Once it became apparent that the task group was indeed likely to enter the UK's area of interest, HMS Defender, as the fleet ready escort ship, was ordered to sail from Portsmouth to meet and escort the group through the UK's area of interest.
"This was several days before the task group's arrival to the north of Scotland.
"The Russian task group operated in international waters off the coast of Scotland and followed international protocols to arrange their flying exercises.
"Their contact with HMS Defender was highly professional and cordial throughout."
Mr Hammond said the Royal Navy did not need more ships, but "good intelligence".
Appearances of Russian vessels off Scotland have caused political rows in the past.
In June 2012, the UK made moves to stop a cargo vessel allegedly carrying refurbished Russian-made attack helicopters from completing its journey to Syria.
The MV Alaed had its insurance withdrawn by The Standard Club in London while it was about 50 miles (80.4km) off Scotland's north coast.
Withdrawal of insurance had prevented the MV Alaed from sailing until its owner could secure new cover.
It was thought that the vessel had stopped for a time off the Western Isles, before later passing Shetland as it headed back to Russia.
In December 2011, Russian warships and support vessels believed to have been headed for Syria took shelter in the Outer Moray Firth during bad weather.
HMS York tracked Admiral Kuznetsov, a destroyer, two frigates, an ocean-going tug and three oil tankers until the task group left and heading into the Atlantic.