More snow at Scots resorts than 2010 Winter Olympics site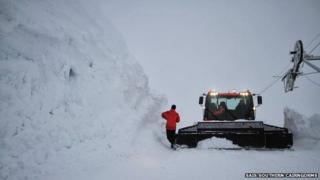 The upper runs of three Scottish ski resorts have more snow than those of a venue for the last Winter Olympics, it has been claimed.
Ski Club of Great Britain has reported depths of 285cm at Glencoe Mountain, 250cm at CairnGorm Mountain and 200cm at Nevis Range.
It said there was 128cm at Whistler in Canada.
Ski-Scotland said this snowsports season could match or better 2009-10's, which was the best in recent memory.
The season of 2009-10 was memorable because of the amount and quality of snow available, and also the high numbers of skiers and snowboarders.
According to the ski club, snow levels in Scotland have also surpassed those on the upper runs at other international ski resorts.
It said there were depths 125cm at Kitzbuhel in Austria, 150cm at Aspen in the US, 200cm at Lillehammer in Norway, 127cm at Courchevel in France and 126cm at Klosters in Switzerland.
Glencoe, Nevis Range and CairnGorm Mountain report that it has been snowing almost non-stop since December.
Staff at Glencoe also said it was the most snow they have seen in at least 15 years.
Glenshee staff described snow cover at high level as "excellent" and that snowfalls over the last seven days had filled in lower level runs.
On Thursday, all five Scottish ski centres were open.
Heather Negus, chairwoman of Ski-Scotland, said: "Season 2009-10 was the best in recent memory, both in terms of the amount and quality of snow and also in the numbers of customers visiting all the ski areas.
"That successful winter provided a huge boost for the ski areas and all businesses near them and also raised awareness in Scotland and the rest of the UK of exactly what the Highlands can offer."