Driving conditions on A9 'like the Wacky Races'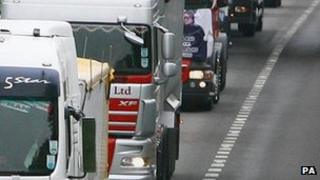 Driving conditions on the A9 have been described as being "shambolic", a campaigner has told MSPs.
Speaking in support of a petition opposed to average speed cameras on the road, Mike Burns said bad overtaking and not speed was the problem.
The government said the cameras would improve safety but campaigners claim they would further frustrate motorists.
Later, in an interview with BBC Scotland, Mr Burns said driving on the road was "like the Wacky Races".
The spokesman for the A9 Average Speed Cameras Are Not the Answer gave evidence to Holyrood's petitions committee.
More than 2,000 people have put their names to the campaign's online petition opposing the planned installation of the cameras between Inverness and Dunblane.
Mr Burns said the campaign was not anti-speed cameras, but said the equipment would do nothing to tackle bad overtaking and even increase the risk of poor driving.
He told MSPs: "I hate driving that road. Coming down here this morning I saw two or three people nodding off and swerving. It is just shambolic".
He said official statistics show 550 accidents on the A9 in the last nine years were caused by overtaking manoeuvres, and 30 because of excessive speed.
After giving evidence, Mr Burns told BBC Scotland that some driving on the road resembled the Wacky Races.
A US children's cartoon first shown in the 1960s and 70s, Wacky Races' characters included Penelope Pitstop, Dick Dastardly and his sidekick Muttley.
The petitions committee will write to the Scottish government and others about the evidence taken from Mr Burns.
Reduces tailbacks
Later this year, a system of average speed cameras will become operational on the A9 between Inverness and Dunblane.
At the same time, lorry drivers will be allowed to increase their speed from 40mph to 50mph on single carriageway stretches of the A9 on a trial basis next year.
Hauliers argued that driving at 50mph reduced tailbacks on the route.
HGVs are already permitted to travel at that speed on the few sections of dual carriageway on the A9.
The trial and average speed cameras are measures aimed at raising safety and easing traffic flows while work is done to upgrade the road.
The A9 from Inverness to Perth is due to be fully dual carriageway by 2025. The cost of the work is expected to run to £3bn.