Freeze frames: Where it has snowed for weeks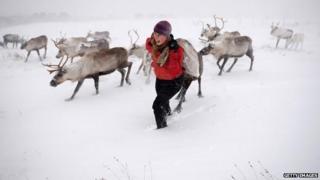 For most places, winter has been wet, windy and snow-free, but it is a different picture on some of Scotland's mountains.
High up in Scotland's hills are piles and piles of the white stuff.
Large parts of the Cairngorms, Lochaber and Glencoe have had weeks of heavy snowfalls.
While Christmas might have been a cold, damp squib in terms of the weather there was snow in these upland areas. And it has rarely stopped snowing since.
Staff at Glencoe Mountain ski resort said that there have snowfalls for six weeks.
The snow is so deep it has almost completely buried some buildings, including the ski patrol's lodge.
Hill staff at Nevis Range, another of Scotland's snowsports centres, tweeted a picture on Monday morning to illustrate the depths of snow on the mountains in Lochaber.
David Roberts photographed his colleagues Davie Austin and Nathan Martin clearing piles of it from one of the centre's buildings.
Members of Sportscotland Avalanche Information Service (SAIS) have also been documenting through photography weather conditions in the mountains this winter.
SAIS provides avalanche risk forecasts for six areas: Creag Meagaidh, Glencoe, Lochaber, Northern Cairngorms, Southern Cairngorms and Torridon.
As well as lots of snow, teams have also experienced strong winds which have resulted in spindrift - wind-blown snow - and cornices.
Cornices are overhanging edges of snow created by wind. They pose a risk to walkers and climbers if they accidently step on to them.
On Saturday afternoon, a climber survived a fall of about 200ft (61m) after going through a cornice in Corie Case in the Cairngorms.
He was one of group from England who had just completed a winter route.
The climber was later treated for a broken ankle at Raigmore Hospital in Inverness.
Cairngorm Mountain Rescue Team said that he had fallen in an area of rocky outcrops but fortunately soft snow broke his fall.
About two minutes after the incident, two people from a group of Finnish climbers fell in the same area.
They were uninjured and made their own way off the hill.
Mountaineering organisations are quick to point out that thousands of people enjoy Scotland's mountains in winter without incident.
Climbers, walkers and skiers will be hoping the snow stays for the rest of the winter.